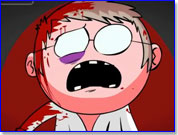 Well, look at this! It's the first new column here at Endless SOS. Every week we'll be bringing you a new dose of crazy, cool, interesting, and moronically stupid videos that we find on the net. Of course with a spice of commentary as well.
Leave your suggestions for the next week in the comments.
Video Games – Awesome Funny
Arrow to the Knee
If there's anything more annoying than fans of Skyrim rambling on about how messed up the game is and how could Bethesda ever release such a buggy the clown piece of mess, it's this horrible unfunny gag-myself-senseless meme. Enjoy! Thanks Janine!
Video Games – Awesome Funny
Mega64 The Best Skyrim Fan Film
And the Skyrim madness continues on. The guys at Mega64 seem to know exactly how to capture the truly awesome feeling of actually playing this videogame on a PC right in front of your face.
Video Games – Awesome Funny
Ocean Marketing FAIL
A company called Ocean Marketing created a serious PR blunder. The company markets this Avenger Controller for the 360, fails to meet deadlines, tries to screw people who preordered the controller too early out of the $10 off deal to people who newly preorder the thing, and goes on a rage-fest with an innocent inquiring customer. Read about it here at Penny Arcade. Now enjoy this video.
Video Games – Informational
The Gaming Historian – Game Genie
The Gaming Historian gives us all a lesson on the Game Genie, its origins, early lawsuits, and other fun stuff. Worth checking out!
Video Games – Informational
Who Invented Random Battles?
Surprise! It's not the Japanese that invented random battles in video games! Actually, I had no idea who it was nor did I ever try to pick a country of origin but regardless, the RPGfanatic here goes into some of the earliest examples of random battles in games, particularly a Dungeons and Dragons scenario that used to use them.
Video Games – Stupid
There Is No Such Thing As A Zelda Timeline!!!!
Nintendo recently officially released a Legend of Zelda timeline, something that they've hinted at for a very long time. This has prompted The Truth and Wiilover to explain why there actually is no timeline. Amazing! The Zelda series is so ruined because this things existence definitely detracts from the experience (that was sarcasm).
Political – Stupid
Teens React to Rick Perry's Strong
Watch out! There are gays on the loose! And Rick Perry is not ashamed to admit that he is a Christian in a country that consists of mostly religious people. What a guy. If there's anything I ever learned from trying to date Graphic Design students (it's okay, I was one as well) is that if you're ever going to try to win them over, you gotta learn to leave your bigoted self at home. What was Rick Perry thinking? It's up to some random teens to try to figure it out!
Anime – Pretty Damn Awesome
Ravex in Tezuka World
Here's something pretty awesome from 2009. Osamu Tezuka is famous for created some of the most classic anime including Astro Boy, Kimba, and Blackjack. In this anime special, electronic music group Ravex manage to recover the remains of Astro Boy, last seen sacrificing himself a the end of the original manga, and enlist him to fight against some jerks that want to silence the universe forever. Something like that. If you like kick-ass music you can move to and want something similar to Daft Punk's Interstella 5555, check this out. Then figure out a way to get an even higher quality version!

Watch Ravex In Tezuka World in Anime | View More Free Videos Online at Veoh.com
Video Games – Pretty Damn Awesome
Giantbomb Quick Look: Sonic CD
Giantbomb does a lot of these but I particularly enjoyed their take on Sonic CD, newly released for the Xbox Live Arcade. It features a 1080p version of the opening and ending animations and even a playable Tails for the very first time. I had a nice nostalgic trip watching the guys rediscover this gem.
Anime – Pretty Damn Awesome
30 Seconds to Mars AMV Project
This is a really cool gem from back in 2003 which features a melody of different 30 Seconds to Mars songs set to different anime shows including Bleach, Blood+, Berserk, Blame, Devilman, and Yu Yu Hakusho.
Reminder
Well that's pretty good for the first week I suppose.  Next week I'll try to dig up even more exciting treasures while delivering some great currently stuff as well.  Don't forget to submit your favorite videos for next week!