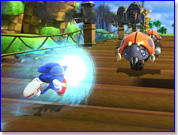 Jon (PrimeSonic) joins Chris and Krystal as we discuss the latest developments in the Sonic the Hedgehog series.  How did Sonic Generations turn out, how does it compare to Sonic Colors, what are our thoughts on Sonic 4 Episode 2, and what are still some perpetual problems with the series?  We also discuss some interesting topics such as Pokemon Black and White 2, the entire Derpy Hooves controversy in My Little Pony, and where the hell Matt is.  We then hit the Q&A and talk about topics such as whether the Tales of series is generic, whether Krystal ever has the urge to smack a bitch, and how we think Dragon Ball changed the industry.
http://dragon-fluff.deviantart.com/art/Krystal-is-back-baby-273954208 – Krystal is a Cat Dragon.
http://www.youtube.com/user/PrimeSonicYT – Jon's YouTube page.
Podcast: Play in new window | Download