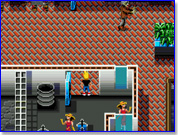 Matt and Chris talk about Disney buying Star Wars, a top 10 underrated games from the current generation, and more!  Jon (aka Primesonic) also makes a guest appearance midway through!
Matt's breakup and horrifying dreams.
Disney buys Lucas Films and how the Star Wars franchise got so messed up.
Chris rants about the problem with comics today.
Top 10 Underrated Games from the Current Generation.
Retro games Chris has just played for the first time.
The gender and demographic breakdown of Bronies and why.
Microsoft vs. Apple after all this time.
Are we surprised how screwed up anime conventions are?
Morality systems in games.
What Matt thinks of Janine's boobs.
Is main character death cliched?
Podcast: Play in new window | Download