In the brand new launch of Endless SOS, no longer tied to a restrictive server, Matt and Chris bring on their friend Gary to talk about The Elder Scrolls V: Skyrim. Is this truly game of the year? Chris also decides to give his first impressions on The Legend of Zelda: Skyward Sword which just might be the final swan song of the Nintendo Wii. How does the 1:1 control on the sword fare? Is this truly a departure for the series? Is it really that good?
The gang also gives their take on seasonal depression and the impact it may have on relationships during the coming months. Matt also vents his frustrations regarding new relationships going into the Christmas season.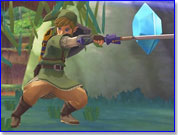 We're truly in the midst of the holiday season for videogames. Chris gives his first impressions on the Super Mario 3D Land for the Nintendo 3DS and we weight in with our thoughts on some upcoming titles on games such as Assassin's Creed Revelations and Saint's Row: The Third as well.
Finally, as per usual, we tackle some of the absurd Q&A.
Podcast: Play in new window | Download