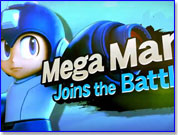 Matt and Chris go over the 2013 E3 Press Conferences as well as government spying programs.
Microsoft's previous crippling DRM issues and their horrible PR.
Does anyone care about the Xbox One TV functionality?
Super Mario World 3D impressions.
Sonic Lost Worlds impressions.
Super Smash Bros. impressions and character announcements.
Killer Instinct impressions.
Tomb Raider thoughts and review.
Edward Snowden leaks government spying program PRISM.
Useless entertainment news on television.
Where the anime Bleach went wrong.
Podcast: Play in new window | Download